A fully integrated solution providing a "single source" platform
One end-to-end, centralised platform ensures the integrity of product information at every touchpoint: from product development, specifications and data sheets, to packaging, smart-labels, sales and marketing communications and e-commerce.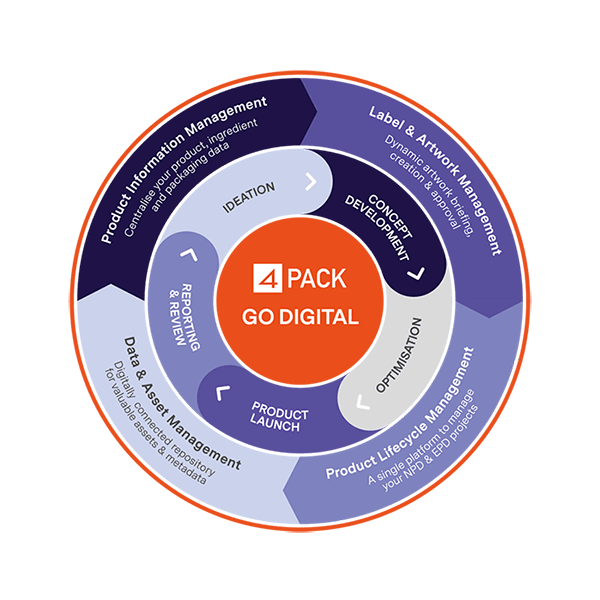 Ideation
Manage all stages of product briefing and ideation.
Scope product and innovation requirements
Brief internal teams & suppliers
Plan key milestones
Detail manufacturing specifications
Commercial scoping and management
Complete Product Lifecycle Management brings all teams together on one central platform from the start of the ideation process, providing visibility and traceability from the outset. The transition from ideation into product development is seamless, and version-controlled product iteration of both existing and new products makes tracking and stage-gating simple.
Concept Development
No more spreadsheets, standalone documents or separate departmental systems.
Centralise all your product master data from the start of the development process
Full version control – everyone working from the latest information
Complete traceability and visibility on ingredients and allergens
Manage nutritional and safety testing
Brief Design & Packaging
Fully integrated stakeholder collaboration across all departments and teams
4Pack's sophisticated Product Information Management capabilities along with outstanding Project Management functionality facilitates iterative, collaborative concept development and refinement whilst ensuring full traceability and the integrity of product information.
Optimisation
With all stakeholders already working with the same, version-controlled information and specifications using shared workflows, multi-functional teams can get products finalised and ready for market quickly and cost-effectively.
Manage factory trials and quality certification
Collate and approve all pack copy and product information
Automated Nutritional Facts Table (NFT) generation
Easily facilitate multiple variants and localisation, with full translation management
Automatically track and manage regulatory compliance across markets
Brief and manage artwork production across teams
Manage cutter guides, print, technical and logistics specifications across primary, secondary and tertiary packaging
4Pack may be integrated internally or externally with other systems (including ERP, CRM and more), or can directly distribute selected criteria to multiple channels such as product data sheets, packaging artwork, smart labels or e-commerce.
Launch
Significantly improve speed to market, make clear cost savings and reduce risk of error at every stage thanks to 4Pack's fully integrated approach.
Fully customisable workflows & personalised daily dashboards
Dynamic feed of accurate product information direct to artwork
Comprehensive approvals management across all teams & outputs
Multi-channel content and asset distribution with bespoke customisation
Syndication to data pools & data networks
Comprehensive search capabilities based on live product information
All assets, content and artwork stored centrally for easy use and controlled sharing
4Pack's complete Labelling & Artwork Management capabilities are supported by a robust Digital Asset Management function. Together, these facilitate the creation and management of multiple formats and asset types, including packaging, smart-labels, multimedia marketing collateral, digital content and optimised
e-commerce images.
Reporting & Review
Through using fully integrated project management and reporting tools, 4Pack connects all stages of the product development and launch process across internal and external teams.
Assign actions & review activity at user or team level
Timelines and critical path management
Role & permission management
Budget tracking & management
Easy, customised, multi-format reports
Get at-a-glance or detailed reviews on all projects at master, departmental or user level across the full product lifecycle.
Integrations
Facilitating true end-to-end update management and new product launch is an essential feature of the 4Pack solution.
To make this process as smooth as possible, 4Pack offers seamless integration with a wide range of other business processes and systems, including:
Benefits
Through end-to-end integration of key content and information flows, 4Pack delivers significant benefits over standalone solutions at every stage of the product and packaging development process, including:
One centralised "single source" of truth
Improving data quality and compliance adherence
Significant cost and time savings – internally and externally
Reduced risk of errors
Full traceability & easy update
Multiple, custom workflows
Multi-format outputs & multi- channel distribution
Ownership and control of you centralised information and assets
24/7 global access